YuMOVE is scientifically proven* and it's backed by veterinarians, so it's certainly one you can trust. But the most important proof you need is in the dogs YuMOVE helps and the people who get to see the difference.
A high quality joint supplement for canine athletes
Jenni & Tilli's #YuMOVEment Story
"I was first told about YuMOVE by one of my flyball team buddies, as Tilli my border collie was experiencing a lot of stiffness in her back legs after competing. ​
The results have been amazing! She has been on two a day for nearly a year now and, after only 2 weeks, all the stiffness has gone and has never returned. ​At the last visit to her vet, he stated that she really is looking great. At one point pre-YuMOVE I really thought she was going to have to stop flyball, which she absolutely loves. YuMOVE is fantastic, I would recommend it to everyone. Brilliant stuff!​"
⭐⭐⭐⭐⭐
Do you have a #YuMOVEment story to share?
Submit your #YuMOVEment story with one (1) video of your dog before they started taking YuMOVE and one (1) video when you see the difference, along with your testimonial and the name age of your pup and we'll send you a FREE pack of YuMOVE!
YuMOVE reviews from senior canine athletes
"This is Luci winning Post Graduate & Good Citizen classes at Crufts.

Our 8 year old Tiffanny gained a RCC this year as a veteran and we also have a 10 year old still in the ring!"

- Cindy and Luci
⭐⭐⭐⭐⭐

"Sky will be 13 years old next month. At 8 she had stiffness in both her shoulders and hips. ​

Thanks to YuMOVE we can still do veteran agility, which she loves! Hopefully many more for her thanks to YuMOVE!​​"

- Beth and Sky
⭐⭐⭐⭐⭐

"My merley girlie Misty had to retire this year from top-level agility. She's been on YuMOVEfor 4 years now, and I believe this kept her competing at a sport she loved doing. It's now keeping her supple on her daily walks. I can't recommend YuMOVE enough!​​"

- Laura and Misty
⭐⭐⭐⭐⭐
Tom & Dollar's #YuMOVEment Story
"This is Dollar and he has been on YuMOVE for a few years now and I love it! He is 9 years old and still leaves the Collies standing when competing in agility! Fantastic product!!​"
⭐⭐⭐⭐⭐
YuMOVE reviews from Canine Athlete Handlers
"Abbey is still very sound at 14.5 years on YuMOVE, she retired at last year's Crufts. Millylily will be at Crufts also doing KC Rally."

- Helen, Abbey and Millylily ⭐⭐⭐⭐⭐

"My boy Jovi will be competing in flyball at Crufts again. He's been on YuMOVE for the last few years and he's still so fit and strong!"

- Sarah and Jovi
⭐⭐⭐⭐⭐
"I came to work for YuMOVE because I'm a bit of a detective. I'm interested in the science behind the products and have a real passion for creating supplements that make a measurable difference to dogs. When you look into the science behind YuMOVE, it's quite unique and detailed. However, no matter how detailed and complex the science, what's really important is that you can actually see the difference in dogs who are given YuMOVE."
- Dr. Ann Haigh, MVB MSC MRCVS, YuMOVE Research & Development Lead
Sheren & Kalli's #YuMOVEment Story
"This is Kalli. Now on YuMOVE she is back to jumping this 9 ft long jump and scaling a 6ft wall for working trials."

⭐⭐⭐⭐⭐
More YuMOVE reviews from Canine Athlete Handlers
"Being a typical mad Irish red & white Setter, Aoife can turn on a sixpence and now takes YuMOVE daily. This ensures she continues to fly around the agility course!"

- Jane and Aoife
⭐⭐⭐⭐⭐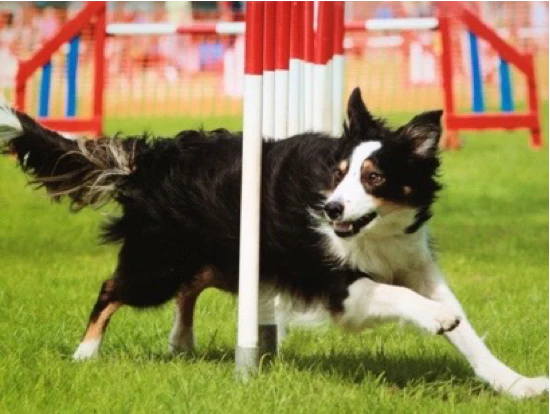 Tina & Will's #YuMOVEment Story
"This is my dog, Will. He's a 7 year old agility dog. I started giving him YuMOVE due to the fact it's a joint supplement that includes Green Lipped Mussels. I'm a veterinary physiotherapist, so I rehabbed him myself and I am pleased to say that after several months on he was able to train and compete again.​"
⭐⭐⭐⭐⭐
Developed in partnership with Canine Athletes 15 years ago
YuMOVE provides proven dog agility support
"The collaboration between YuMOVE and the AKC complement each other so well, with the continued dedication and support of the dog world. That's why I give all my agility dogs YuMOVE and fully support this
partnership."
- Anthony Clarke, YuMOVE Global Ambassador