Who are we?
We're YuMOVE, and we're on a mission to help every dog live their most active life, for life.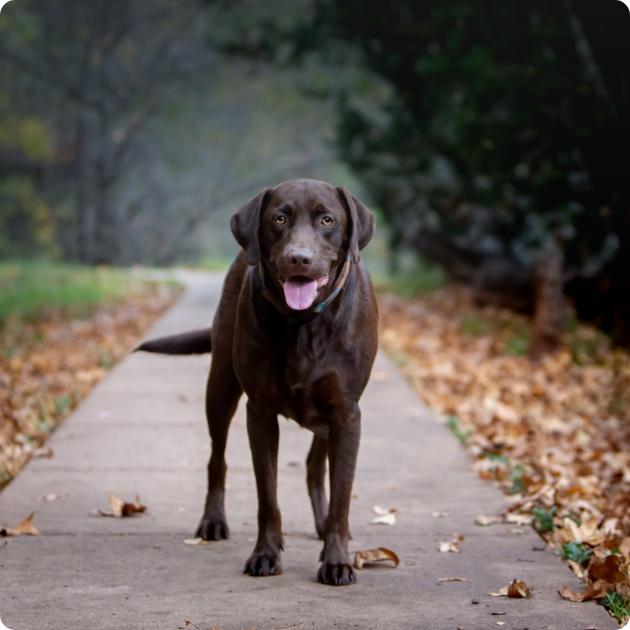 How it all began...
It all began with a dedicated nutritional scientist, Dr. John Howie, and passionate dog lover, John Davies, and their mission of giving pets healthier, happier lives with our joint supplements for dogs. Of course, it couldn't have been done without the love and influence of one dog – John Davies' Chocolate Labrador, Charlie.
Charlie the Chocolate Labrador needed help
Charlie was slowing down, and was reluctant to get on and off his favorite couch, following an operation for a slipped disc. As he started struggling to jump up, John knew he had to do something to help his beloved Charlie. He tried everything on the market, but Charlie wasn't getting any better. YuMOVE has now supported millions of dogs like Charlie with our hip and joint supplements for senior dogs.
With inspiration from canine athletes
At the same time, John and John were regulars on the champ show circuit with their first product, for skin and coat, and they had learnt a lot about competing dogs' needs.
They then became regulars in the dog agility circuit and saw that canine athletes were incredibly energetic in both training and competitions, needing a higher level of joint and mobility support. Because of this information, they realized that Charlie was also having trouble with the exact movements that agility dogs were doing all the time.
The ActivEase® difference
In their mission to help Charlie, the two Johns set out to source high quality, nutrient-rich, ingredients. They eventually found what they were looking for in the crystal-clear waters of New Zealand –Green Lipped Mussel for dogs. This shellfish is renowned for its blend of Omega-3 fatty acids, and it's a source of chondroitin which helps support joint health.
Proprietary processing
They set out creating a rapid one step drying process, which results in a unique profile of joint-soothing Omega-3 fatty acids. Because of that, our Green Lipped Mussel has been given a name you won't find elsewhere – ActivEase® Green Lipped Mussel. ActivEase® is our promise to you. A promise that we can offer you a GLM ingredient of the highest quality.
A brand-new formulation
With the help of Charlie, John and John went about researching, testing and improving a brand-new formulation that would become the the #1 veterinarian-recommended hip & joint supplement brand in the UK* for pets experiencing joint stiffness and mobility concerns. One that supports sporting dogs in peak condition, using ingredients that give extra support where it's needed.
Combining our unique Omega-3-rich ActivEase® Green Lipped Mussel, plant-based Glucosamine, Chondroitin, Hyaluronic Acid, and antioxidants (Vitamins C and E), this unique formula supports your dogs' joint health and mobility.
The result? YuMOVE Hip & Joint Supplement for Dogs
We're proud to say our product makes a real difference. It helped Charlie get back to jumping on his favorite couch and has supported over 2 million dogs globally*.
A product that makes a real difference
There's science, love, and passion behind everything we do here at YuMOVE. And it's why we work with organizations like the Royal Veterinary College in the UK to prove the benefits of our products. We know that by doing all this, we can get visible results in just six weeks.*
Already supporting over 2 million dogs globally*
YuMOVE is now supporting over 2 million dogs globally* and that's how we know we're only just getting started on our mission.