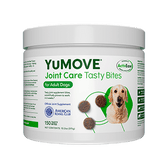 YuMOVE Joint Supplement for Adult Dogs I Tasty Bites Soft Treats
Helps ease stiff joints
Supports joint structure
Helps support mobility
Tasty soft bites, developed for adult dogs showing signs of stiffness
Triple-action formula soothes joint stiffness, supports joint structure and promotes mobility
Scientifically proven to show a visible difference in just 6 weeks*
Helps ease stiff joints
Supports joint structure
Helps support mobility
Tasty soft bites, developed for adult dogs showing signs of stiffness
Triple-action formula soothes joint stiffness, supports joint structure and promotes mobility
Scientifically proven to show a visible difference in just 6 weeks*
Best value offer
30% discount
Free delivery
See the difference in 6 weeks or your money back*
Single Purchase
Change to Monthly Plan and save
$12.00 per month.
Pause, skip or cancel anytime.
Free Shipping, delivery estimated between 3-5 days
See the difference in just 6 weeks, or your money back, guaranteed*
YuMOVE Joint Supplement for Adult Dogs I Tasty Bites Soft Treats
Helps ease stiff joints
Our unique ActivEase® GLM, provides a range of Omega-3 to help ease stiff joints.
Supports joint structure
Glucosamine provides basic building components of cartilage helping to support and maintain joint structure.
Helps support mobility
Hyaluronic Acid helps to lubricate and cushion the joint while antioxidants Vitamins C & E neutralize free radicals, helping to maintain joint mobility.
These hip and joint tasty chews are suitable for dogs of any age, breed or size, as soon as they've started solid food. The tasty chew can be added to your dog's food or taken directly from your hand. You can choose to give the recommended amount in one go or spread them throughout the day. For best results, we recommend that you double the amount for the first 4 - 6 weeks in order to see results sooner.
Green Lipped Mussel
ActivEase® Green Lipped Mussel specially selected from the crystal-clear waters of New Zealand, provides a unique combination of Omega-3 fatty acids to help ease occasional joint stiffness.
Vitamins C and E
Antioxidant, vitamin C and E neutralise free radicals helping to maintain mobility.
Glucosamine
Provides the major building blocks of cartilage – the tough connective tissue that protects the joint.
Manganese
Supports collagen formation in the cartilage, tendons and ligaments.
Hyaluronic Acid
A major component of synovial fluid and part of our unique formula, which helps to lubricate and cushion the joint and has been shown to reach joints within 2 hours*.
Are there any allergy concerns?
If you have any concerns or your pet has allergies, please contact customer service on 844 901 2099, or email info@yumove.com.
Can I give YuMOVE to a dog that is pregnant or lactating?
We do NOT recommend giving YuMOVE to a dog that is pregnant or lactating.
Can I give YuMOVE to a dog with underlying health issues?
If your dog has underlying health issues we always recommend checking with your veterinarian or contacting our Customer Service Team on 844 901 2099, or email Info@yumove.com for further advice.
Can your products be used with prescription only medicines?
All of our products can be used in conjunction with most prescription-only medicines. Please check with your veterinarian or contact our Customer Service Team on 844 901 2099, or email Info@yumove.com.
How quick is your delivery?
We ship all orders on a next working day basis. Providing an item is in stock, we aim to ship all orders received by midday on the same day. We ship orders Monday to Friday and do not ship at weekends. We will ship your order using United States Postal Service (USPS) - First Class.
Do you offer a money back guarantee?
It's really simple. Most of our products are backed by our See The Difference or your money back guarantee. If you try a product for 6 weeks and don't see the difference, we'll give you your money back. Give us a call at 844 901 2099 to talk through what's happening.