Supplements for Agility Dogs
Supplements for Agility Dogs
How YuMOVE supports your agility dog
At YuMOVE, we understand that agility dogs are nothing short of canine athletes. They carry out rigorous activities that require twisting, climbing, jumping, and high-speed running. Just like human athletes, these performance dogs can put their joints under a lot of pressure, and it's important to provide the right support to help keep them doing what they love.
When agility dogs jump, run over A frames or weave, it's like a high intensity workout for their joints. This can be more strain than they'd get from a regular run and it can speed up normal wear and tear on their joints and surrounding tissues.
That's why YuMOVE has always prioritized joint support for dog athletes. We're already supporting over 2 million dogs a year globally,* including Crufts winners and agility champs. And we're excited to continue this work as the official joint supplement for the American Kennel Club (AKC).

Today, YuMOVE is trusted in dog parks and competition arenas, and recommended by veterinarians.* We know that each dog sport comes with its own challenges, and that's why we've done our research. We've carefully selected ingredients that will support the unique joint health needs of canine athletes. We're committed to giving your athletic dog the quality support they deserve.
Wondering which YuMOVE product will work best for your agility dog?
Check out our range of joint supplements for active dogs of all ages:
Young Dogs
Keep your younger dog's energy levels high and playtimes fun by supporting their joints with YuMOVE Joint Care for Young Dogs. These tasty tablets are filled with ingredients like ActivEase® Green Lipped Mussel, Glucosamine, and Hyaluronic Acid. Green Lipped Mussel is a great source of Omega-3, which is helpful for joint health. They're easy to give, and contain extra antioxidants for active dogs.
Shop YuMOVE Joint Care for Young Dogs
Adult Dogs
If you're ready to support your adult canine's active life, YuMOVE Joint Care for Adult Dogs is the one for you. Our unique formula supports joint health with the power of ActivEase® Green Lipped Mussel, Glucosamine, Manganese, and Vitamins C and E. It supports joints, helps ease stiffness, and promotes mobility for your beloved companion. Choose between the tasty tablet or one-a-day YuMOVE Joint Chews.
Shop YuMOVE Joint Care for Adult Dogs
Senior Dogs
YuMOVE Joint Care PLUS supports the joints of aging, stiffer dogs. It blends Glucosamine, Hyaluronic Acid, and an extra 20% ActivEase® Green Lipped Mussel versus YuMOVE Joint Care for Adults. This extra-strength supplement can make all the difference to your faithful friend if they're struggling with the agility movements they used to make with ease.
Shop YuMOVE Joint Care PLUS
YuMOVE was crafted with the needs of canine athletes in mind. We developed our unique supplements to support their agility movements, from jumping and weaving, to sprinting and climbing. But what's inside our dog joint supplements, and how does each ingredient help support your agility dog? Here's a quick rundown:
ActivEase® GreenLipped Mussel

Provides a unique blend of Omega-3 fatty acids specifically chosen to help ease stiff joints.

Manganese

Supports collagen formation in the cartilage, tendons and ligaments.

Hyaluronic Acid

A major part of synovial fluid which helps to lubricate and cushion active joints.

Glucosamine

Provides the basic building blocks of cartilage helping to support joint structure.

Antioxidants Vitamins C & E

Helps support joint mobility by neutralizing free radicals.
We're proud to deliver a specialized approach to supporting your active dog's joint health. Whether you're starting younger dogs on agility training and want to proactively support their joints, or you're seeking additional support for older, experienced agility dogs, we're here for you.
Still not sure what's best for your canine athlete? Feel free to reach out to our dedicated Customer Service team via phone or email. They're always happy to chat about all things dog!
As featured in
As featured in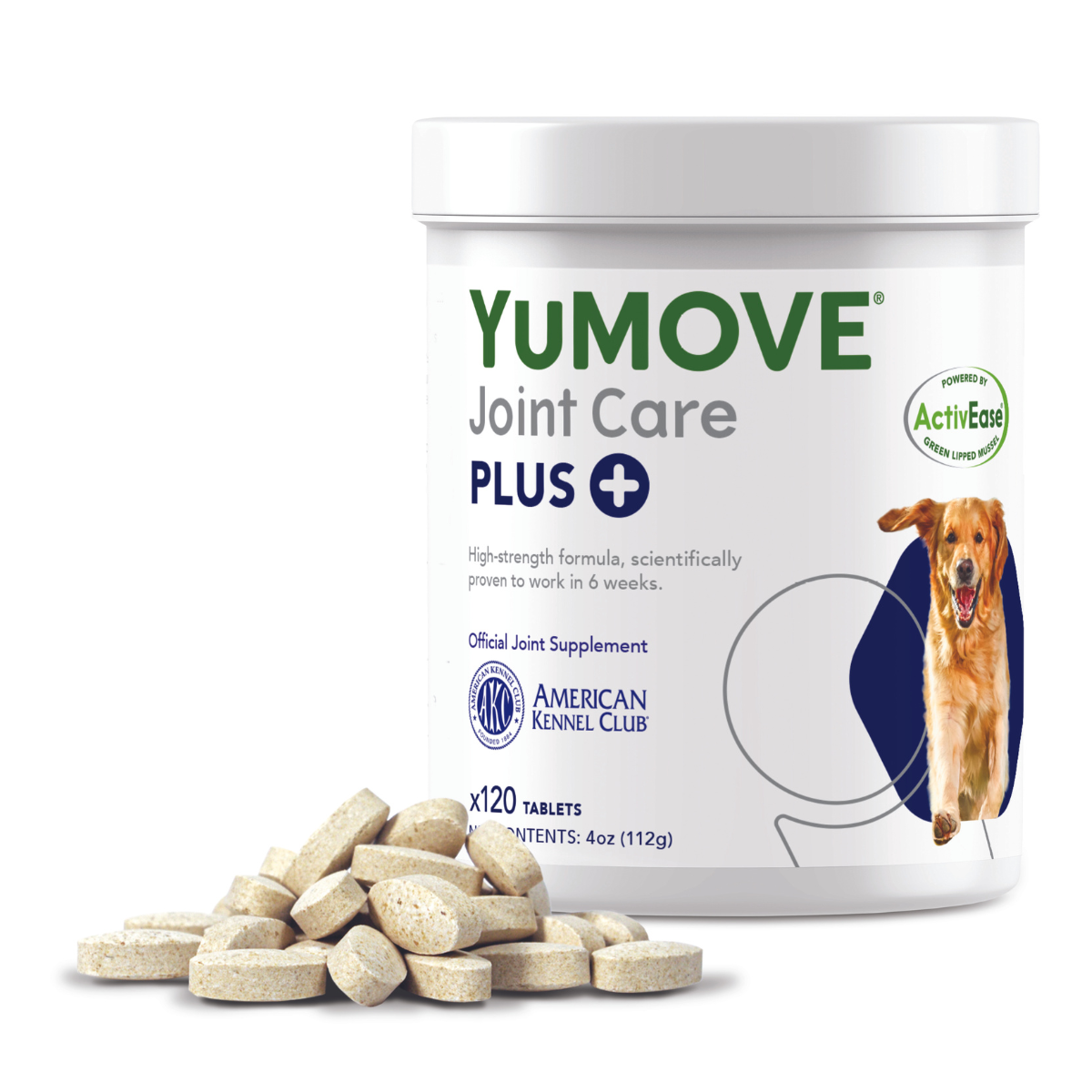 Over 45,000 Positive TrustPilot Reviews
Support healthy hips and joints in your large dog with YuMOVE Joint Care for Dogs.
YuMOVE's joint care is based on over 15 years of scientific research and already supports over 2 million dogs a year globally.* Find your dog's personalized YuMOVE plan today and see visible results in just 6 weeks.*
See our Recommendations
The Proof is in the Reviews
The Proof is in the Reviews