Trusted by dog agility experts
YuMOVE has a 15-year history of supporting canine athletes
In 2007, we attended our first show – the East of England Champ Show – and have been supporting competition companions ever since. We're excited to be working with some expert dog agility trainers and handlers to help spread the word, and support even more dogs.
Nancy Gyes
AKC USA World Dog Agility Team Coach, World International Agility Champion, and YuMOVE USA Ambassador

"After 25 years of being associated with the American Kennel Club, either being on the team or being the coach, I'm happy to announce that YuMOVE is now the official joint supplement of the AKC and will also be sponsoring the AKC USA World Dog Agility Team. What a great company and superior product to support and maintain our canine athletes' joint health and mobility."
30 years in agility
Nancy has been involved in dog agility for over 30 years. She was active in competition and pet obedience, tracking and behavior counseling for pet owners before discovering agility in 1990.
Nancy is a full-time International agility instructor, coach, competitor and seminarian and has taught in Japan, Korea, Australia and all over the United States including Hawaii and Alaska. She has been the Coach of the AKC/USA World Team since 1996, helping that team bring home many medals.
She has won 8 National/World Championship Titles in USDAA & AKC, and has been on the Winning Team for the Dog Agility Masters Tournament two times.
Nancy has 4 dogs now. A 13 year old male border collie named Scoop that is retired, a ten year female border collie named Shepherd's Pie, a 7 year old male border collie named Mojo and her youngest is a 3 year old Border Collie/Jack Russell cross named Mockingjay that she just began competing with in December 2021.
Jennifer Crank
Three time AKC Agility Champion Jennifer Crank, is now proudly a YuMOVE ambassador.
"For all that our dogs do for us, taking care of their physical and mental health is the least we can do for them. I want to help people help their dogs live a long, happy, and healthy life. For that reason, I am excited to be a YuMove Ambassador and help make people aware of what benefits YuMove can offer their dog."
– Jennifer Crank, YuMOVE Ambassador
Jennifer has been training agility since 1992 and opened up her own training facility, IncrediPAWS Dog Agility, in 2010.  Jenn currently trains and competes with multiple shelties and border collies. Her favorite thing about training is "the opportunity to work with so many students and competitors from all walks of life. Seeing them grow with their dogs as members of the community as well as successful handlers".  
Jenn has represented the United States on the world agility stage over fifteen times, and has earned three FCI Agility World Championship medals.  Nationally, she has been crowned AKC Agility Champion three times, and she and her co owned sheltie Bee, won the agility portion at Westminster in 2022 becoming the WKC Masters Agility Champion.  
Anthony Clarke
International Agility Champion and YuMOVE Global Ambassador Anthony Clarke is known as one of the UK's top trainers and competitors with 20 years' experience working with dogs and taking every dog he has owned to the very top level of British Agility. 
"As canine athletes, my dogs live a more active life than your usual pet. YuMOVE dog joint supplement helps them to recover after exercise and keeps them on top form when competing."
Anthony gained experience in Junior Handler events, winning the Junior World Championships in 2007 and every British Junior title at least twice before excelling in senior competitions and has competed for his country at the FCI World Championships and the European Open, achieving silver and bronze placements.
Anthony began coaching the England World Agility Open Team, supporting the team to win 9xGold, 7xSilver and 6xBronze medals. The team has said "Anthony works well as a coach to bring the best out in each handler and dog partnership."
Ashleigh Butler, YuMOVE UK Ambassador
Ashleigh Butler, YuMOVE UK Ambassador
"I want the absolute best for my dogs. I'm a strong believer in my dogs being able to continue training for as long as possible, and anything that I can give them to help them do that, I want to be using that. YuMOVE is absolutely the best for them."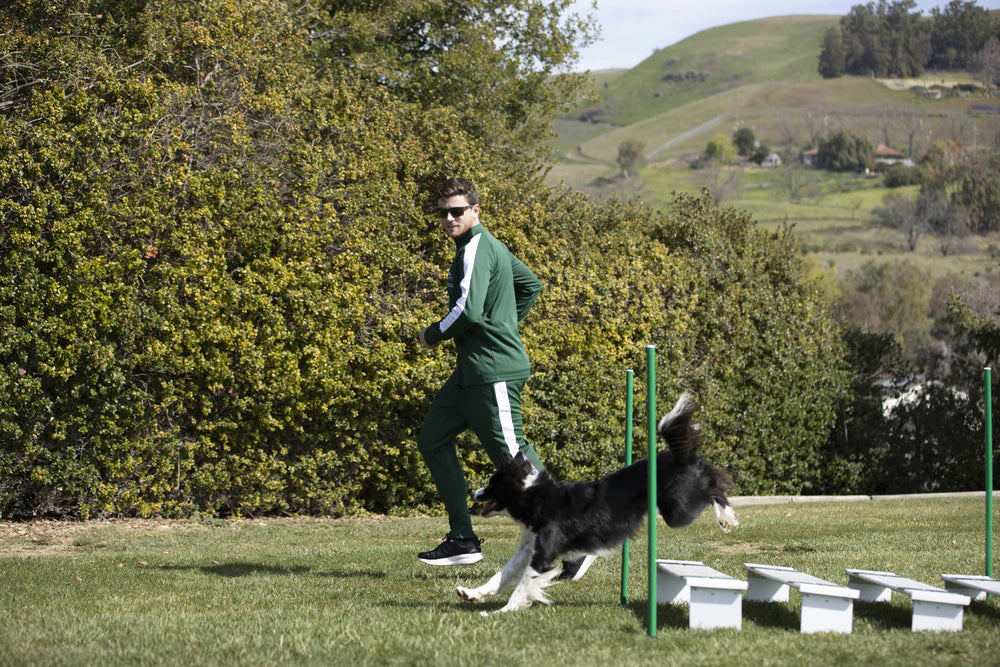 Loved by canine athletes, handlers and veterinary professionals
"The collaboration between YuMOVE and the AKC complement each other so well, with the continued dedication and support of the dog world. That's why I give all my agility dogs YuMOVE and fully support this
partnership."
- Anthony Clarke, YuMOVE Global Ambassador
See how YuMOVE supports sport