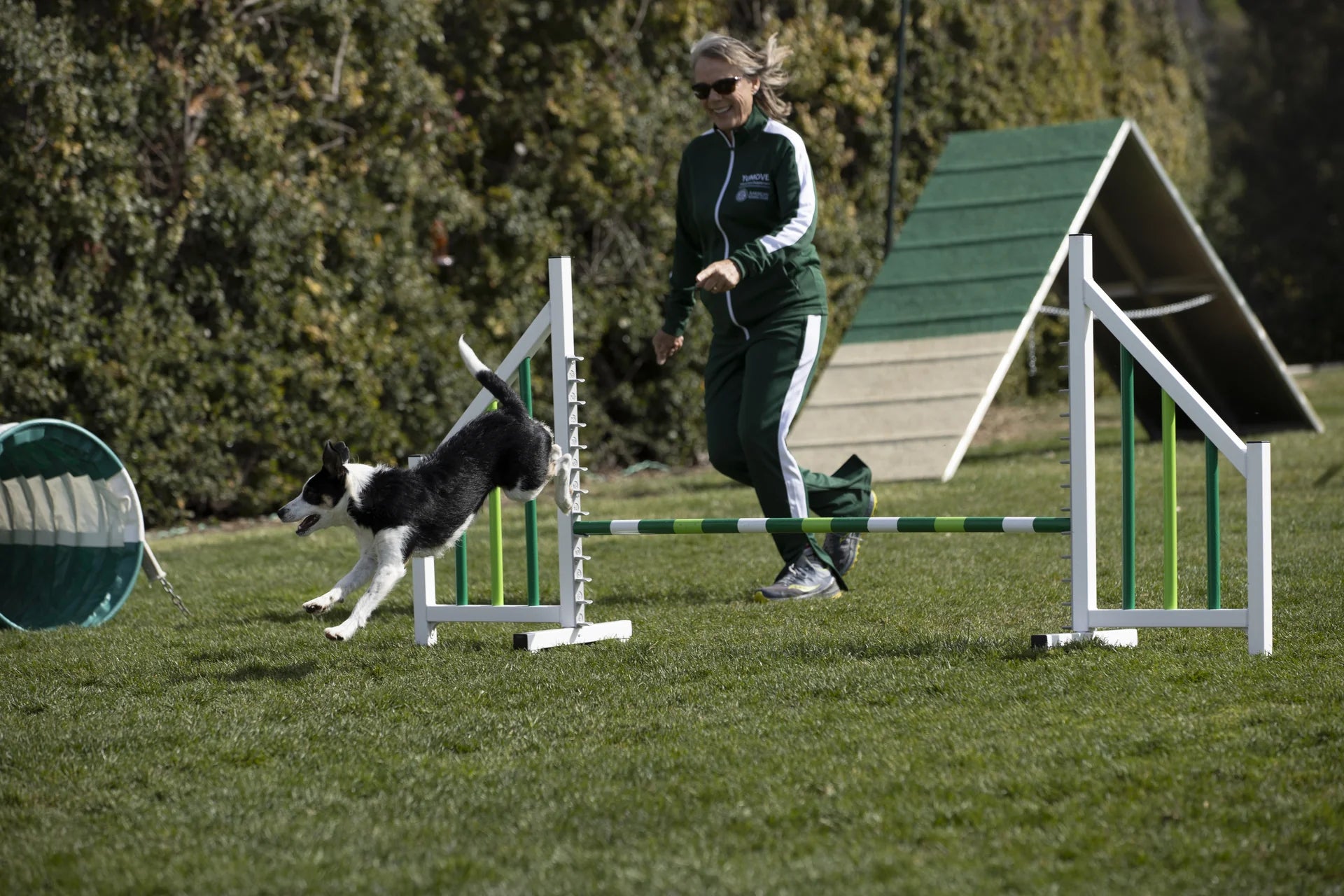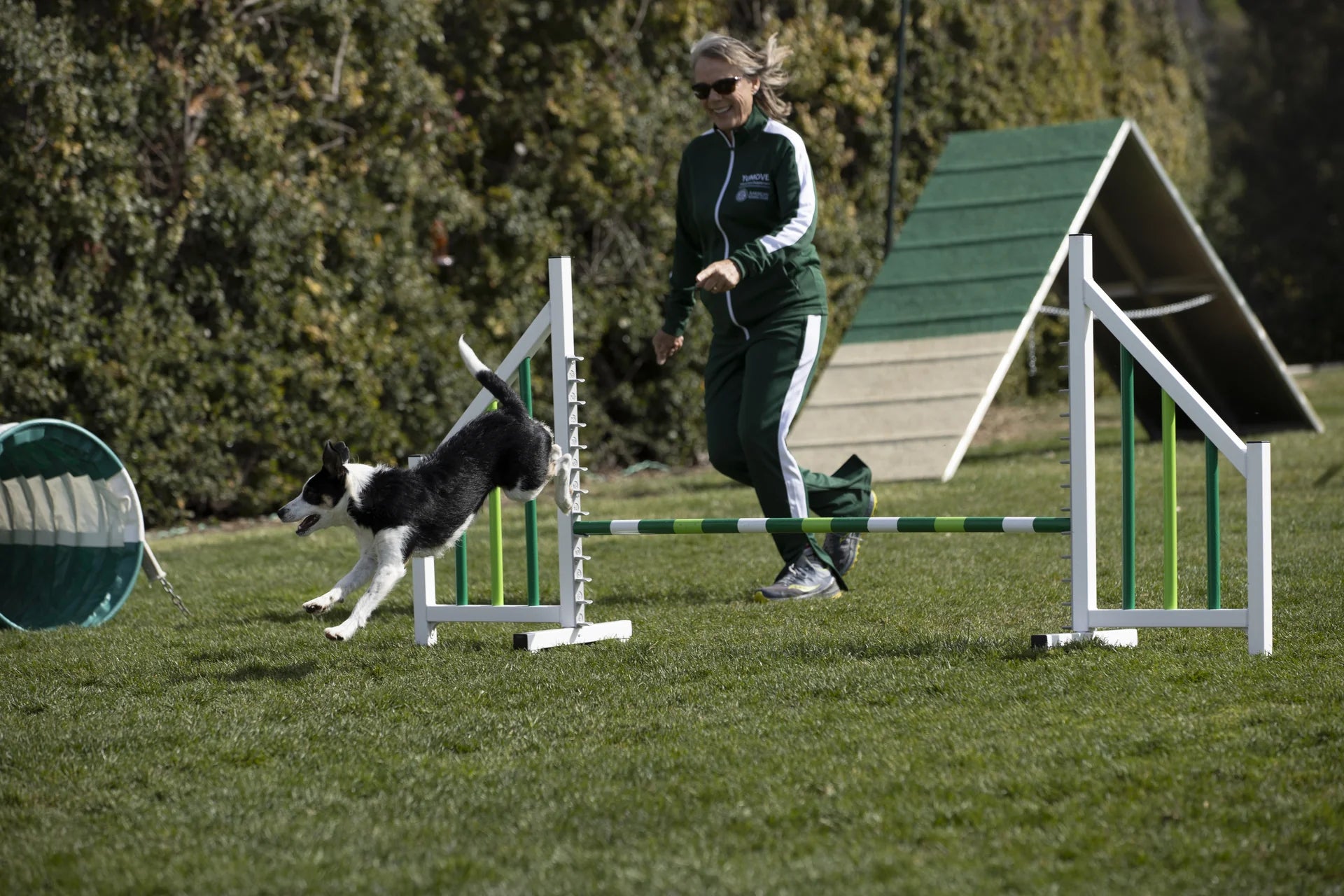 All about our high quality ingredients
A dog joint supplement is only as good as what's inside, which is why each ingredient in every YuMOVE dog joint supplement has been carefully chosen to support key elements of your dog's joint health.
The four stages of joint support and what each of the active ingredients do.
1. Shock Absorption

Hyaluronic Acid

Shock absorption is the first line of defense. Every time your dog walks, runs or jumps, they're subjected to impact shocks from the floor. That's why we've included Hyaluronic Acid in our unique formal as it is a core component of joint fluid which helps to lubricate and cushion the joint.*

2. Soft Tissue Support

Manganese  

When it comes to the strength, stability and flexibility of your pet's joints, soft tissue health is important. For that reason, we've included Manganese in our joint supplements as it supports collagen formation in the cartilage, tendon and ligaments. 

3. Structural Support

Glucosamine & ActivEase® Green Lipped Mussel  

Glucosamine provides basic building components of cartilage helping to maintain joint structure while Green Lipped Mussel is a source of Chondroitin which helps to maintain healthy joints.  

4. Mobility support

ActivEase® Green Lipped Mussel & Antioxidants 

Unique to YuMOVE, ActivEase® Green Lipped Mussel contains a powerful blend of Omega-3s to soothe occasional stiffness and promote mobility. Antioxidants Vitamins C and E, neutralize free radicals to help support joint mobility. 
What sets YuMOVE joint supplement ingredients apart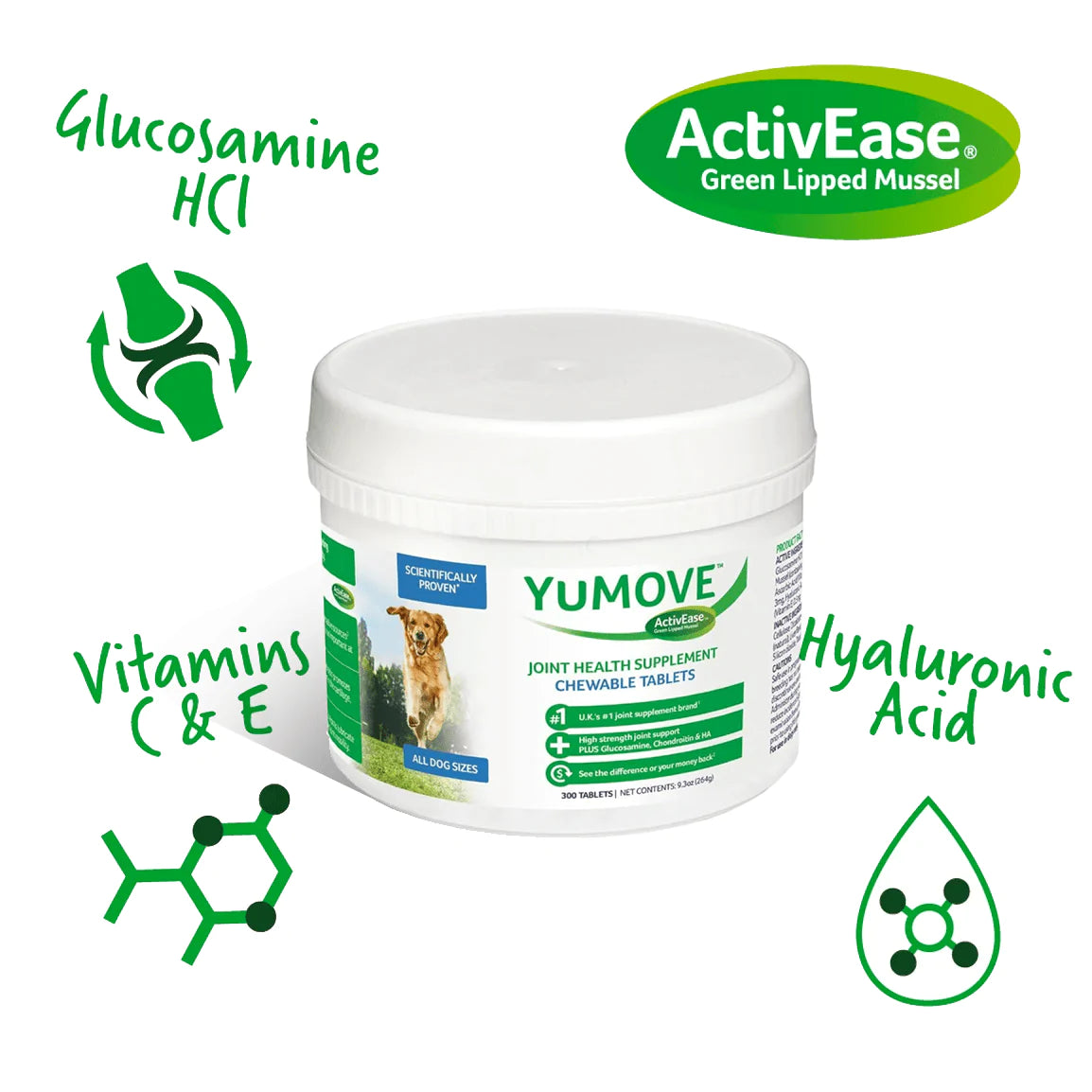 The perfect mix of ingredients 
Any of these ingredients on their own can provide certain levels of benefit. But together? They create a powerhouse of mobility support. 
Scientifically proven to work* 
YuMOVE Joint Care's scientifically proven formula delivers results in just 6 weeks.* 
Sustainably sourced 
We care about the environment as much as you do and sustainably source our ActivEase® Green Lipped Mussel from the crystal-clear waters of New Zealand. 
See The Difference Guarantee. 
We're so confident YuMOVE will work for your dog, we offer a satisfaction guarantee. If you don't see a difference in 6 weeks, we'll give you your money back. Guaranteed.* 
The science behind our dog joint supplement ingredients
ActivEase® Green Lipped Mussel
Our Green Lipped Mussel for dogs  contain a unique blend of nutrients – such as Chondroitin, Manganese, amino acids, antioxidants, and most importantly, joint soothing Omega-3s.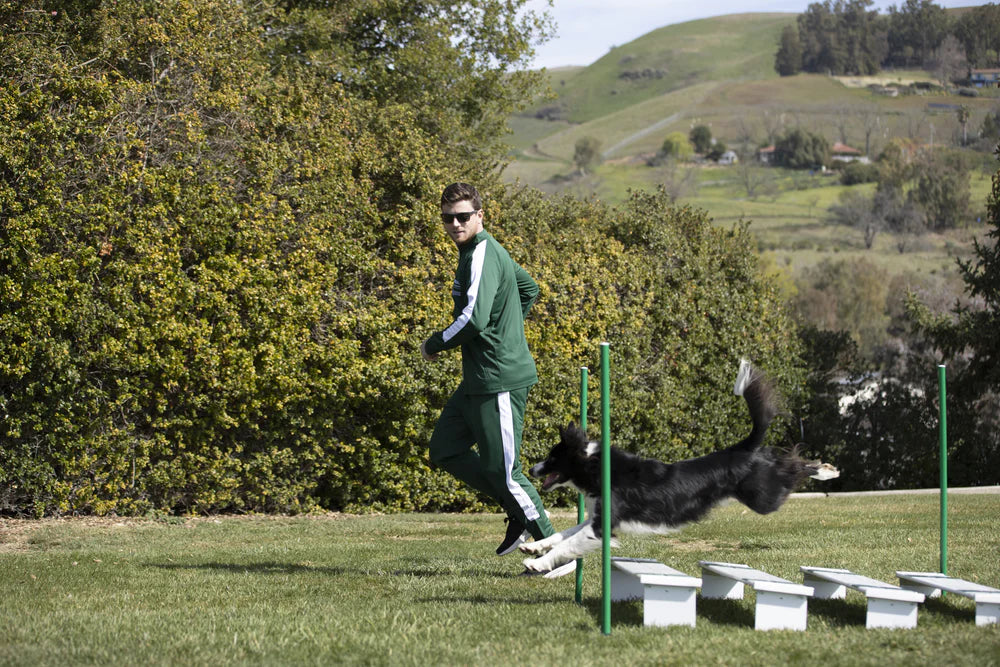 Glucosamine HCl
Glucosamine is present in your dog's body. Puppies and adult dogs produce plenty of Glucosamine, but, just like humans, as they exercise and age this naturally reduces. So, it makes sense to add some to their diet to support your dog's joint health.
Chondroitin
Found within Green Lipped Mussel and helps to support the cartilage around joints.
Manganese & Vitamins
Vitamins C & E  help maintain joint mobility by neutralizing free radicals (unstable atoms that can damage cells). 
Manganese is an important nutrient widely used in pet and human joint supplements. It supports collagen formation in the cartilage, tendons and ligaments.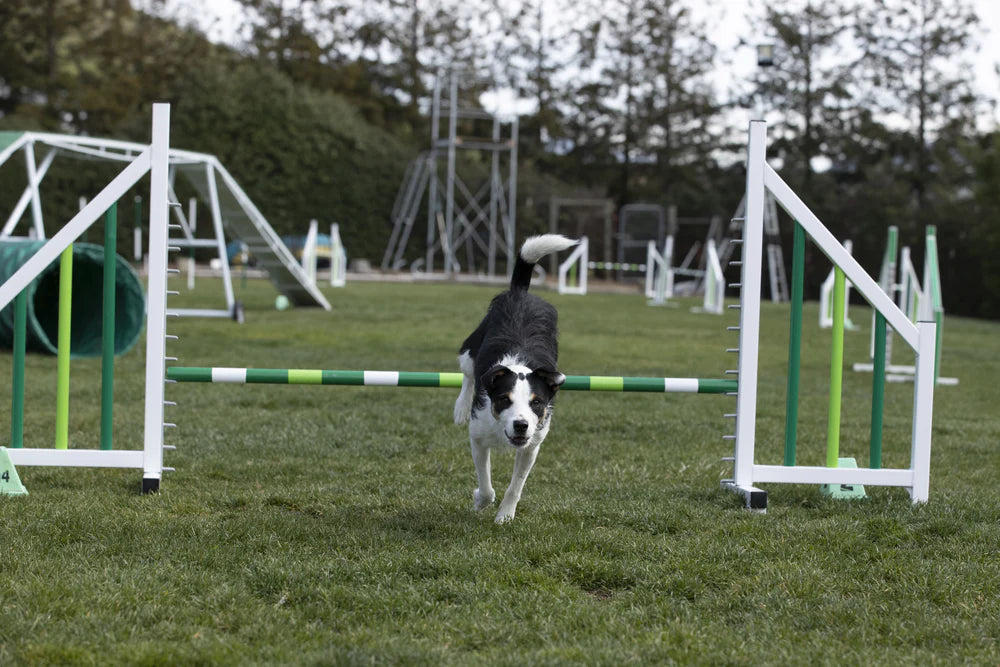 Hyaluronic Acid
This gel-like substance that is a major component of synovial fluid and cushions and lubricates your dog's joints.
Proven ingredients to support your dog's joints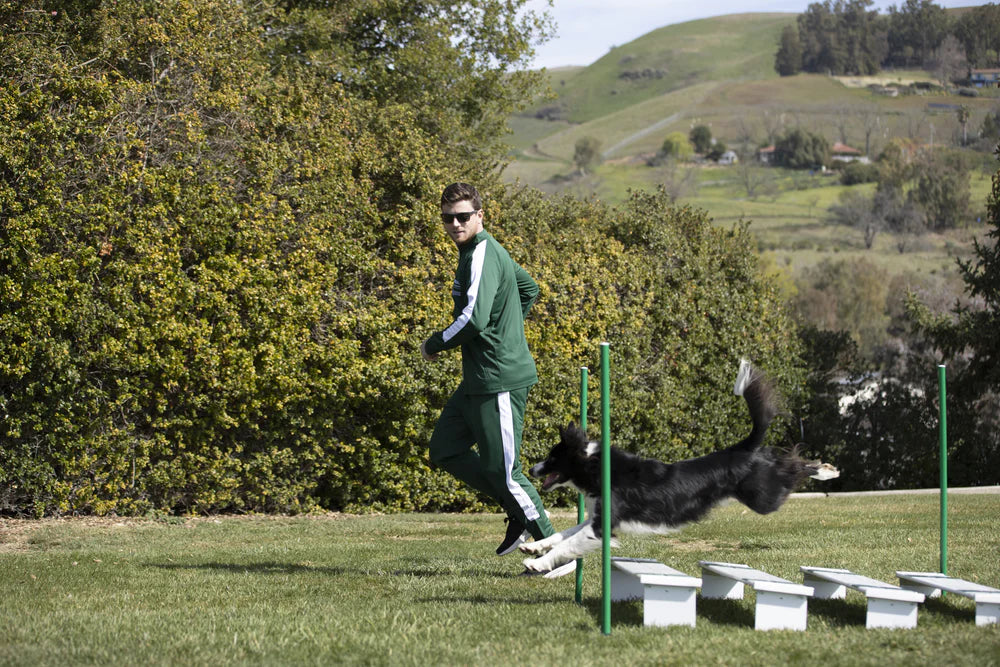 "As canine athletes, my dogs live a very active life. I've been using YuMOVE for 8 years and it helps my younger and older dogs to keep in top form when competing." 
Anthony Clarke, International Agility Champion and YuMOVE Global Ambassador